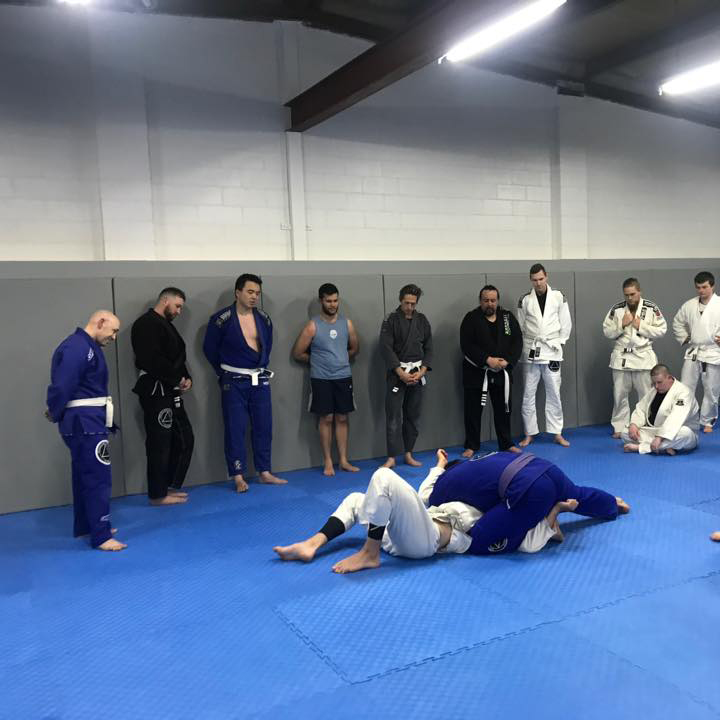 Brazilian Jiu-jitsu (BJJ) and Gracie jiu-jitsu (GJJ) are grappling based systems designed to teach you to protect yourself against bigger and stronger attackers and nullify their physical advantages.
Our aim is to provide a safe and comfortable method to learn using a structured, progressive self-defence system that emphasises technique drilling and partner practice. We gradually increase the intensity over time as you are ready until you can spar against fully resisting training partners to build complete confidence in your ability and techniques.
This progression varies from person to person and is heavily focused on safety and also personal choice and comfort.  We want you to train at a level you are comfortable with and ready for.
As a Carlos Machado affiliate, we also include the Machado Method BJJ program into our curriculum.
Brian is a Brown belt in BJJ having trained since 2008. He received his Brown in 2018 from 2nd degree black belt Deon Perkins. Brian is also certified under Carlos Machado (8th degree coral belt), having received his first degree on his Brown belt in October 2019 from Carlos Machado. Brian also holds a brown belt in Aikido and a green belt in Judo.
• Qualified Personal Trainer and Strength Coach.

• Qualified Remedial Masseur.

• Cert IV in Training and Assessment

• Competition awards
4x AFBJJ Vic State Champion – Masters Blue Belt

• 2x Grappling Industries Vic State champion – Masters Purple.

• 2x IFBJJ Pan Pacific Champion – Masters Purple.
Frequently asked questions